Providing Our Clients With Strategic Business Solutions
Business Solutions | InnovationROI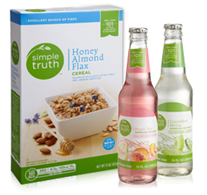 This Simple Truth case study highlights the successful business solutions InnovationROI achieved as a strategic partner with Kroger in the development of the brand positioning and brand identity.
Overview
With consumer demand for organic and natural products on the rise, Kroger wanted to strengthen their position in the category by creating a new brand that makes shopping for organic and natural items easier and more affordable.
Approach
In order to build mass at shelf and clarify consumer communication, Kroger made the strategic decision to bring all of their existing Private Selection Organic and Naturally Preferred items under one brand identity. Kroger enlisted InnovationROI to develop a new brand positioning stemming from the consumer insight that people found shopping for organic and natural projects a frustrating chore. They were shopping at specialty stores and reading lots of labels to try to make sure they were buying the best products for their families. But they also felt that they were paying too much for these products at the natural food stores.
Even though Kroger had a small portfolio of organic and natural items available in their stores, the existence of multiple brands — Private Selection and Naturally Preferred — was fragmenting consumer shopping and not building enough awareness of their offerings. So Kroger and InnovationROI set out to create the Simple Truth brand, "an easy, clearly labeled and more affordable way to buy organic products," according to Mary Ellen Adcock, Vice President of Natural Foods for Kroger.
Not only was InnovationROI an integral strategic partner in the development of the brand positioning and brand identity development, we assumed the role of brand leader on the packaging execution team to ensure the design integrity was maintained as the brand was rolled out across almost 300 SKUs.
Result
Simple Truth was the largest new brand launch in Kroger history and continues to surpass sales forecasts. In fact, recent Cincinnati.com article (9/2014) states that just two years after its introduction, the Simple Truth natural brand is quickly becoming a $1 billion-a-year brand.
This business case study features the strategic partner role that InnovationROI played in the development of the Kleenex Anti-Viral Tissues positioning, although many different business solutions were investigated throughout the consumer qualitative testing process.
Overview
Kimberly-Clark had substantial research showing that Kleenex sales peaked during cold and flu season (lots of germs floating around!) and that 74% of consumers re-use tissues throughout the day (eww!). They wanted to grow the Kleenex franchise by introducing a product that was positioned as more than just a disposable handkerchief that "catches" germs.
Approach
The KC Innovation Team contacted InnovationROI to explore an initial hypothesis: If consumers are keeping tissues in their pockets and purses and re-using them during the day, then germs are continuing to "float around" and possibly be passed along. What if we developed a tissue that stopped the spread of germs by "catching and containing" them in a way no other tissue had ever done before? InnovationROI went to work creating 8-10 written concepts for qualitative research that altered people's perceptions of what a Kleenex facial tissue could do. We also attended the research to revise and strengthen the leading concepts based on consumer feedback in preparation for volumetric testing.
Kleenex Anti-Viral Tissues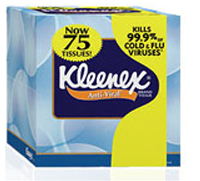 Result
Kleenex Anti-Viral Tissues were launched and in 2 years captured a 4 percent share of the market and $140 million in global sales in 22 countries. Now that's nothing to sneeze at!